5 Ways CNC Machining Can Help Manufacturers
CNC machining and fabrication services have been there in use for several years. With the advent of technology, these machines have evolved in terms of having multiple axes, automated processes, and so on. This has helped manufacturers a lot to increase their production volumes, accuracy, time to market of goods, and so on. Hence, over the last few years, computer numerical control or CNC machining has gained immense traction. Increasing demand for custom parts and components is one of the reasons for this popularity. Another driving factor for the growth of machining and fabrication is the increasing demand for PCBs. CNC machining allows original equipment manufacturers (OEMs) to produce these custom parts in high volumes effortlessly. Those who do not have a fabrication unit can partner with a CNC machining service provider who can customize according to their requirement, and also offer prototypes. These machining benefits manufacturers owing to superior precision, fast production capacity, cost-effectiveness, and many other features. This post discusses several benefits of CNC and how these services can be useful to various OEMs.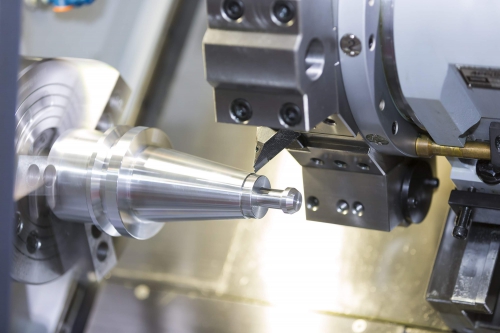 How CNC Machining Benefits Manufacturers?
Nowadays, CNC machining services are opted for by almost all manufacturers across industries owing to the following reasons. Let's have a look at them.
Increased Production Volume and Efficiency: This is one of the key reasons why OEMs preferred CNC machined parts or products. Unlike a conventional machine, where an operator is responsible for handling every part CNC machining is computer-based and can be partially or fully automated. As the name implies, computers are used to control the functionality of machines. This reduces the possibility of manual errors, increases production volume, and efficiency. CNC allows OEMs to work at a faster speed without compromising on the quality of the products. These machines can be operated 24/7 and be stopped only for repair and maintenance or to input a new project.
Quality Products: This is another benefit of CNC machining. All tasks are carried out through pre-programmed machines with a set of instructions fed through the computer. The product design made in AutoCAD can be linked to the machine. This eliminates all possible human errors and ensures consistency in the product structure and dimensions, regardless of the volumes. Also, they can handle complex designs with ease. Compared to the conventional method, CNC is best suited for mass production due to its high-end accuracy and repeatability. This is not possible in the case of manually operated machines or tools as the jobs can bet get mundane and repetitive.
Minimal Material Wastage: CNC drives sustainability in several ways. The machine is programmed to perform specific requirements with tighter tolerances. Every task works as per the scale and desired specifications, leaving almost no room for material waste. Also, it is a subtractive method rather than additive, where the portions of the part that are not required are eliminated using various techniques. This helps you save on potential rework and costs. In addition to this, CNC doesn't require additional parts, such as sander or drills. This is because everything is incorporated in the main body.
Build a Safe Workplace: Safety is one of the important reasons why OEMs opt for CNC machining. Compared to conventional machining, CNC machining assures a safer workplace and reduces the possibility of accidents. In the case of manual lathes, drilling machines, punches, and other tools, the operator comes into direct contact with sharp implements. However, this threat doesn't exist with CNC machines. Owing to process automation, the machine operator handles tasks by keeping a safe distance.
Owing to the above-mentioned benefits of CNC machining, today, they have become essential for several manufacturing processes. If you are an owner of a manufacturing unit looking for a high-quality and performance-driven CNC machining services provider for your project, you must consult an industry leader in machining and fabrication. Brogen and Patrick Manufacturing is among the trustworthy, reliable machining service providers in the USA. With years of market presence and highly experienced employees, the company specializes in offering CNC machining services across industries, including medical, military, aerospace, oil and gas, and much more.