Nylon Machining Services
---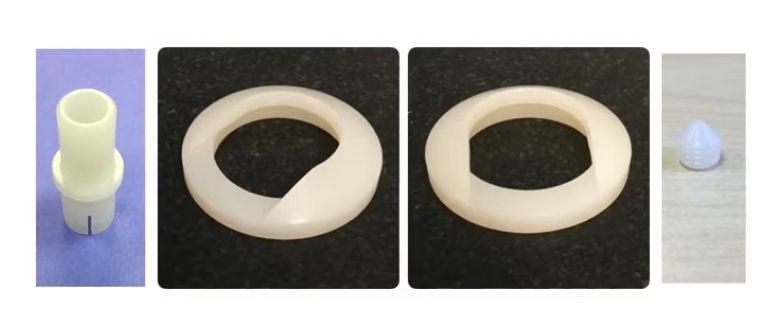 Brogan & Patrick Manufacturing, Inc. specializes in nylon machining services and has been leading this segment for many years now. With several years of experience in plastic machining, especially nylon machining, we have been part of projects that demanded high accuracy, precision, and quality. We have always produced nylon machined parts that meet or exceed our client's expectations.
Nylon is one of the most popular engineering plastics due to its mechanical properties. This plastic is fast replacing CNC machining materials such as iron, copper, and steel in several industrial applications. It is a stronger material and can withstand temperature extremes, and is cost-efficient than several plastic variants.
Material Properties of Nylon
Nylon is a synthetic polymer, which is made of polyamides. This polymer possesses immense durability and strength, which makes them popular over several other commercial plastics. The following properties of this material make them immensely popular.
Nylon variants have high mechanical strength and toughness.
It exhibits good machinability and wear resistance.
It offers excellent fatigue resistance, which makes it an ideal choice for challenging applications.
The material exhibits good resistance to harmful energy radiation.
Nylon possesses excellent wear resistance and sliding properties
Features of Brogan & Patrick's Nylon Machining Services
At the core, quality is the hallmark of our nylon machining services. Over the years, we have invested in technologies and people who help us fulfill our commitment of delivering quality products at the fastest turnaround times. The following capabilities that we have acquired over the years have helped us immensely.
We use CAD/CAM for tooling as well as manufacturing program design. This enables us to reduce design and manufacturing errors.
All nylon machining services are performed at our well-equipped, ISO 9001:2015 certified CNC machine facility at Elkhorn, WI.
We perform complete precision CNC plastic machining services including CNC turning, CNC milling, and cryogenic deburring at our facility.
We also provide a wide range of secondary finishing services such as polishing, edge finishing, and so on.
Our plastic engineers combine their vast expertise with advanced CNC machining techniques to create complex 2D and 3D shapes.
We can provide machined parts in small to mid-sized production runs.
We can deliver parts with precision tolerances up to +/-0.005′.
All parts are stringently tested for defects and errors before leaving our facility. This has tremendously helped us assure accuracy and reduce product recalls.
Nylon Grades We Work With
At Brogan & Patrick, we provide nylon machined parts developed from the following nylon grades:
Nylon 6 (PA6): This polymer was developed by IG Farben, and is known as polycaprolactam. Made of one monomer with six carbon atoms, this synthetic polymer assures low mold shrinkage, low heat deflection temperature, and can withstand high stress and impact. It is easy to color and stands out due to its lustrous finish. The best thing about this polymer is – it can be processed at low temperatures with minimal defects.
Nylon 66 (PA66): It is variously referred to as nylon 6-6, nylon 6/6, and nylon 6, 6. It is made of two monomers containing 6 carbon atoms. Owing to its structure, this polymer exhibits strengths across a wide range of temperatures. It is abrasion-resistant and offers the lowest permeability to mineral oils, gasoline, and fluorocarbon refrigerants.
Nylon 12: This grade is also known as PA12 and it features laurolactam and ω-aminolauric acid monomers with 12 carbon atoms. It shares several properties with nylon 6 and nylon 66 such as high tensile strength, hardness, as well as abrasion resistance. It is chemical resistant, and can withstand stress cracking.
Glass Reinforced Grades: We work with several glass-reinforced grades. These grades assure better stiffness, great tensile strength, and great material harness than standard nylon grades.
Nylon Machined Parts We Design and Deliver
At Brogan & Patrick, we design and deliver the following machined parts for various industrial applications.
Bearings
Wear Parts
Bushings
Rollers
Seals
Gaskets
Gears
Housings
Washers
Nuts
Industries We Serve
Our precision nylon machined parts are widely used in the following industries:
contact our team
today to know more about our nylon machining services and discussing your specific requirements. We are looking forward to hearing from you.