Cryogenic Deburring Sevices
---
Part imperfections are one of the common reasons for product recalls and their failure. These imperfections may be caused due to several reasons ranging from material quality to the choice of wrong material or machining technique or excess material in some areas. Among various imperfections, burrs are a common concern for most plastic part fabricators across the world. The burrs are created if excess material is left behind during the machining process. These burrs add to the roughness of the surface and also alters its aesthetical appeal. At Brogan & Patrick, we help plastic fabricators to remove burrs create even and aesthetically appealing parts through cryogenic deburring. We have successfully employed this technique to create highly accurate, functional, and aesthetically appealing machined components for medical, aerospace, fluid power, and other industries.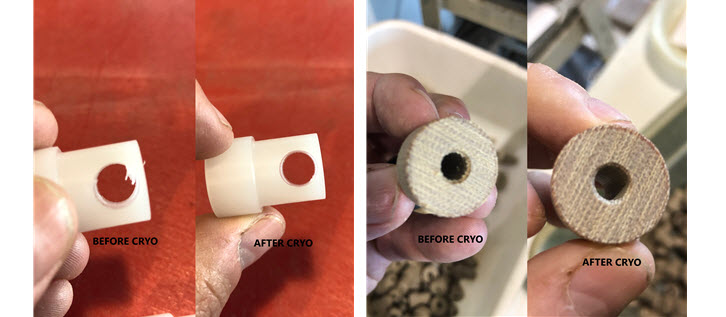 What is Cryogenic Deburring ?
Cryogenic deburring is a process wherein deburring is performed at extremely low temperatures or cryogenic temperatures. The part with a burred surface is placed in a cryogenic deburring machine and is cooled to extremely low temperatures up to -60 degrees Fahrenheit or to the extent that they become brittle. The cooled parts are usually placed in a stainless steel basket during the process. The frozen burrs are subjected to .080 polycarbonate media, which removes them without altering the integrity or aesthetic appeal of the part.
Features of Our Cryogenic Deburring Services
There are a few plastic fabrication shops specializing in cryogenic deburring services and Brogan & Patrick stands tall among them. Over the years, we have built a long list of satisfied clients who have exploited our following manufacturing capabilities to achieve desired results.
We have successfully implemented cryogenic deburring to remove flakes and sharp pieces from machined parts made of materials such as PTFE, acetal, nylon, phenolics, Kynar, PEEK, and others.
We have extensive experience working on components such as gears, O-rings, plastic bushings, washers, bobbins, adapters, and so on.
Every year, we process several requests for components that require high-precision burr-free parts, which need to be checked at extremely high power.
We also provide an option to remove internal burrs, which are only noticeable at a microscopic level.
Our vast experience with polycarbonate media in sizes ranging from 0.015 to 0.080 enables us to perform the deburring effectively on the most demanding part geometry.
Many machined parts require sensitive handling and our engineers have immense expertise in developing custom fixtures for effective burr removal in recessed areas, through-holes, and blinds.
Our CNC machining investments over the years help us handle small and high volume part quantities with equal ease.
We assure competitive prices and the fastest turnaround times in the industry, which makes us an ideal choice for cryogenic deburring services for all small and large machine shops.
Benefits of Cryogenic Deburring
Cryogenic deburring is today employed by many of our clients to remove offensive burrs because it offers several benefits. The following are a few benefits of this process, which makes us one of the busiest cryogenic deburring services shops in the US.
This technique does not alter the geometry or surface finish of the part.
It serves as a clean, safe, as well as cost-effective alternative to vibratory, hand, as well as other deburring services.
It produces no dust or residues and is highly effective for removing flakes or sharp pieces.
Cryogenic deburring does not alter the edges or remove the material from it.
It is a computer-controlled process that assures high accuracy and consistency.
This technique is suited for parts of all sizes, and it helps maintain the part geometry, as well as critical tolerances.
This process assures user and handler safety and helps prevent various dangerous situations, where the parts with burred edges may chip off during operation.
Owing to all the above reasons cryogenic deburring is considered to be an economical and much beneficial type of deburring.
At Brogan & Patrick, we believe in delivering customized services. Our vast plastic fabrication expertise combined with our well-known engineering expertise enables us to stay true to our commitment of quality and trust. You can contact us today to check how our experts can help you meet your complex plastic fabrication challenges with our CNC machining and cryogenic deburring services.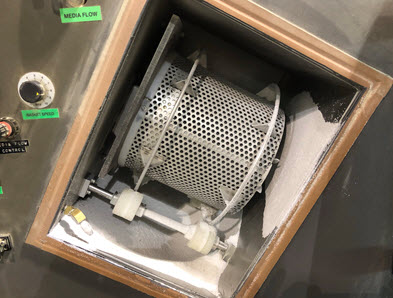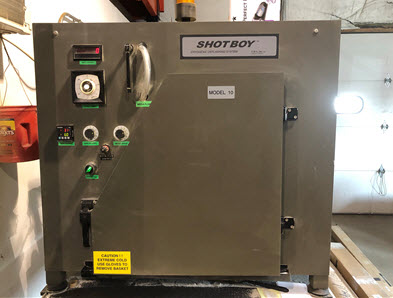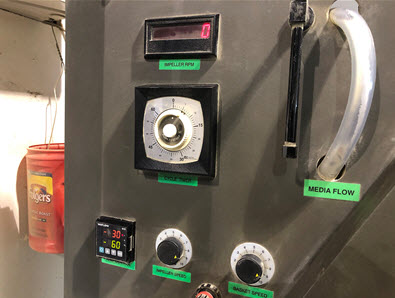 ---
Related Cryogenic Deburring Resources