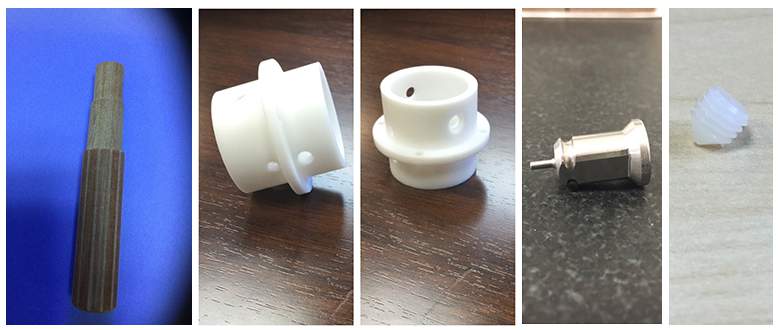 Brogan-Patrick provides a comprehensive range of CNC plastic and metal machining services in Illinois and Wisconsin. We combine advanced CNC machining centers with proprietary technology to produce high quality, on-demand metal and plastic parts.
CNC Machining Capabilities
At Brogan-Patrick, we provide unparalleled and quality services to our customers at cost-effective prices. The following are highlights of our machining services:
General CNC Machining Capabilities: We provide the following CNC machining services:

Cutting
Routing
Drilling
Turning
Live Tooling
Milling
Equipment Capabilities: We use CNC machines with features such as advanced CNC control, off-line programming using Master CAM, live tooling, and bar feeders. These advanced features allow us to produce parts with tolerances up to ± 0.0005. 
Secondary Services: We can provide additional services such as assembly, etching, engraving, polishing, cryogenic deburring, coating, anodizing and reverse engineering. These secondary services are performed in the final phases of precision machining to improve mechanical and visual characteristics of products.
Plastic Materials We Work With
We provide plastic CNC machining services, and work with a variety of plastic materials, including the following:
Polyethylene
Polyfluoroethylene (PTFE)
PEEK
Delrin
Nylon
PVDF
ABS
Ultem
Phenolics (G10, Linen, XXX, CE or C) 
Metals We Work With
We provide precision CNC metal services. We work with a variety of metals including the following:
Brass
Aluminum
Copper
Stainless Steel
Highlights of Brogan-Patrick's CNC Machining Services
Following are features of our precision CNC machining services, which has helped us grow into one of the most trusted industrial machining service providers across America.
Custom CNC Machining Services: At Brogan-Patrick, we have vast custom CNC machining capabilities, which allow us to meet our clients' complex and diverse component requirements. Our extensive niche experience and CNC machining expertise allow us to work on challenging orders, and complete it as per the client's specifications.
Well-Equipped Production Facility:Our well-equipped production facility allows us meet any machining requirements from prototypes and small order runs to high volume production.
Quality Assurance:At Brogan-Patrick, every machining project is thoroughly inspected from conception to production. This helps us ensure and achieve 100% customer satisfaction.
Setting High Industry Standards: We've invested in advanced CNC machining equipment, which allows us to ensure strict conformance to tolerances. We employ skilled people, who can transform any challenging idea into high-performing, finished machine parts.