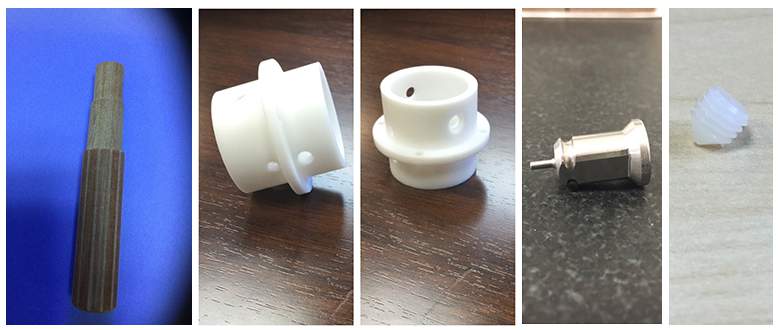 CNC machining is a popular manufacturing process, which has gained immense popularity in plastic and metal manufacturing industries due to its distinct advantages. The computer numerical control (CNC) machining process makes use of computer-aided design (CAD) and computer-aided manufacturing (CAM) software and an automated machine. Owing to high level of automation involved, this technique assures precision, cost effectiveness, and is widely used for bulk production. Precision CNC machining has become an important requirement in various industries. Brogan & Patrick provides a comprehensive range of precision CNC plastic and metal machining services in Illinois and Wisconsin. We combine advanced CNC machining centers with proprietary technology to produce high quality, on-demand metal and plastic parts.
CNC Machining Capabilities
At Brogan & Patrick, we provide quality and unparalleled custom CNC machining services to our clients at cost-effective prices. Owing to our technology expertise, we also assure the fastest turnaround times in the industry. We provide the following types of CNC machining services to meet our client's prototype to bulk production requirements.
General CNC Machining Capabilities: These are the general CNC machining services performed at our facility.

CNC Turning: This is a precision CNC machining technique where a cutter is used to remove a material from work pieces. In this process, the work piece is kept in a chuck and is made to move in a rotating axis. The tool will remove material by creating holes, grooves, and cuts. CNC turning is more appropriate for creating round surfaces.
CNC Milling: It is a subtractive manufacturing process that uses rotary cutters for shaping a work piece. CNC milling can be performed on one or several axes to meet the design requirements. It is more suitable for flat work pieces. We can provide CNC milled parts in close tolerances of .001". We have performed CNC milling for parts as large as 36".
CNC Cutting: This is a process of cutting materials into desired shapes using CNC machines. Our facility is equipped with machines that enable us to accomplish precision CNC cutting services.
CNC Routing:This is another computer controlled cutting technique where a material is are cut through a router mounted on the machine, which acts as a spindle. CNC routing can be used for different types of hard and soft materials such as wood, composites, glass, aluminum, as well as foams. CNC routing is used to create detailed work pieces.
CNC Drilling: Unlike all other CNC machining processes, in this process, the work piece remains fixed and the cutter moves. The cutter center and the hole center is aligned and the cutter is made to move. Typically, drilling is done on work pieces to create holes for installing machine bolts and screws.
CNC Live Tooling:In this type of CNC machining, the work piece remains in orientation of the spindle. The turret of different spindles is used to perform different types of machining operations.
Equipment Capabilities: We use CNC machines with features such as advanced CNC control, off-line programming using Master CAM, live tooling, and bar feeders. These advanced features allow us to produce parts with tolerances up to ± 0.0005. 
Secondary Services: We also provide additional CNC machining services to lend a finished look to a workpiece. Generally, these secondary services are performed in the final phases of precision machining to improve the mechanical and visual characteristics of products.

Assembly
Etching
Engraving
Polishing
Cryogenic Deburring
Coating
Anodizing
Reverse Engineering
Finishes for CNC Machining Service
At Brogan & Patrick, we provide the following types of surface treatments and finishes:
Powder Coating: In this technique, paint in the powdered form is sprayed over the part, which is then baked in the oven. Powder coating also helps increase corrosion resistance and strength of the part.
Anodizing – Type II & III: Anodizing type II and III helps improve wear resistance and corrosion resistance of the part. Of these, type II improves corrosion resistance, and can be availed in different colors. However, type III creates a hardcoating on the part.
Bead Blast: Small glass beads are blown to the surface of the part to improve its aesthetic appeal. Bead blasting produces a matte finish on the part.
Milled Finish: It is a standard finish that may produce minor tool marks on the body of the part.
Materials We Work With
Common CNC Machined Plastic Materials
We provide plastic CNC machining services, and work with a variety of plastic materials, including the following:
Common CNC Machined Metals
We provide metal CNC machining services. We work with a variety of metals including the following:
Why Choose Brogan & Patrick for Precision CNC Machining Services
The following are features of our precision CNC machining services, which has helped us grow into one of the most trusted industrial machining service providers across America.
Well-Equipped Production Facility: Our well-equipped production facility allows us meet any machining requirements from prototypes and small order runs to high volume production. Well-Equipped Production Facility. Our well-equipped production facility allows us to meet any machining requirements from prototypes and small order runs to high volume productions. We employ CNC machines with advanced features such as bar feeders, live tooling, advanced CNC control, and offline programming using Master CM. All these features enable us to produce parts with tolerances ranging from 0.001 " to 0.0005 ".
Custom CNC Machined Parts: At Brogan-Patrick, we believe that every client requirement is different and there are no standard specifications. Our advanced CNC machining capabilities, allow us to meet our clients' custom CNC machined component requirements. Our extensive niche experience and Custom CNC machining expertise allow us to work on challenging orders and complete it as per the client's specifications.
Engineering Expertise:We work with a broad range of plastic materials and metals, as well as work on standard and complex parts with strict tolerances. The engineering expertise that we has been built over the years have helped us emerge as one of the trusted custom CNC machining services in the US.
Quality Assurance:At Brogan-Patrick, we value quality over anything else. Right from technology investments to the use of high quality materials for testing and inspection, quality is deeply embedded in every aspect of machining. This helps us ensure and achieve 100% customer satisfaction.
Setting High Industry Standards: We've invested in advanced CNC machining equipment, which allows us to ensure strict conformance to tolerances. We employ skilled people, who can transform any challenging idea into high-performing, finished machine parts.