Why is Custom CNC Machining so Popular?
Computer Numerical Controlled or CNC machining has gained traction among OEMs and fabricators. It has been the most widely employed machining, and fabrication technique where precise and high-speed cutting tools are used for producing metal and plastic parts in the desired shapes. Over the last few years, customization has gained a lot of importance considering the complex designs of parts and components across industries. Hence, custom CNC machining has gained immense traction. It is mainly employed for machined parts of non-standard sizes and materials. These may be made to suit specific and niche requirements. Custom CNC machining involves the use of techniques such as CNC turning, milling or EDM machining, and more. However, you need a certain level of expertise and experience to make custom parts, especially the ones which require extreme precision and tight tolerances. This post aims to answer all the questions about custom CNC machining. So, stay tuned.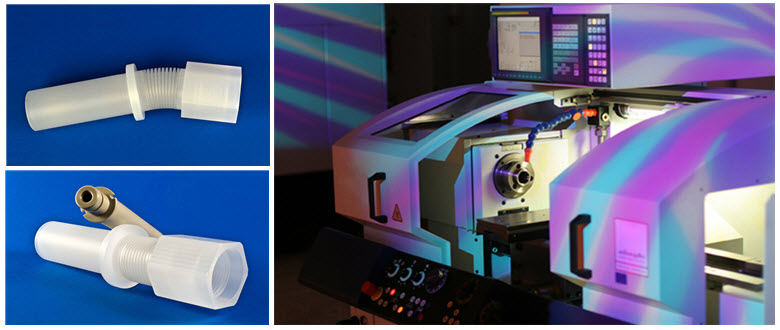 Reasons Why You Need Custom Machined Parts
Nowadays, custom machined parts are utilized across industries. You need custom machined parts in the following scenarios.
When a high level of accuracy and precision is required.
The product volume is low.
When parts need to be machined in specific dimensions.
When parts are off-the-shelf items or different from the ones in regular catalogs.
Custom CNC Machining: Why Are Customized Parts Popular?
Custom CNC machining is used to make special parts which may not be standard fitment. Sometimes, a standard part or component is modified or customized a bit to suit the given requirement. Custom parts offer several benefits over standard CNC machined parts in terms of shape, fitment, materials, and so on. Aside from this one aspect, here are some more reasons why custom CNC machining is popular.
Advanced CNC machines have multiple axes and can perform more than one task at a time. These machines also offer accuracy and precision which are prerequisites for custom parts. So, making the desired parts that fulfill the application need is a major strength of these machines.
Custom CNC machining makes a significant difference when parts have complex geometries, multiple joints, or intricate detailing.
Different types of materials, including Hastelloy, Inconel, Rene alloys, Waspaloy, and Inconel demand special machining expertise. Due to this reason, many CNC machining shops refuse to work with them. This poses difficulties for many manufacturers who want to produce the parts of these materials. However, this is not the case. With advanced machines, one can make custom parts using these materials quite efficiently.
Considering the aforementioned scenarios, custom CNC machining is a great option for small part volumes. Also, since the volume is low, these may be completed in short turnaround times. This helps manufacturers gain a competitive edge in terms of early time to market and selling niche parts.
You can pre-program these machines and automate most of the process. This helps OEMs eliminate many possible errors. This guarantees good quality of the finished parts.
The advantages of custom CNC machining are countless, and those mentioned above are a few important ones. However, if you plan to outsource custom CNC machining services for your upcoming projects, you must approach a reliable, trustworthy, and well-experienced industry player in machining and fabrication. Brogan & Patrick is one of the prominent custom CNC machining service providers in the USA. With years of market presence and a highly experienced workforce, the company has been delivering customized CNC machined parts to its clients across industries such as aerospace, military, defense, medical, and others for many years now.