Experts in the Industry for Machining Dusty and Dirty Phenolics Materials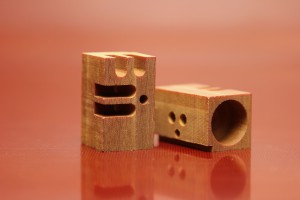 Many plastics job shops refuse to machine phenolics like G10, G11, G5, Paper Linen LE, Paper XXX and Canvas Phenolic. However, we are experts at machining those dusty, dirty materials. Many shops complain of the dust and the rigid handling of the material. However, our machinists and operators understand the rigorous requirements of machining these unique materials.
We have become so prominent in machining phenolics that many of the manufacturers and distributors use us a source for machining their phenolic materials.
We can use our Browne/Sharpes to screw machine G10 shoulder bushing, use one of our many CNC turning centers to cross drill a Paper XXX Phenolic fitting or even CNC mill Grade LE (Linen Phenolic) for a cover. However, the machining of phenolics is sometimes the easy part of a phenolic component. Deburring of phenolics can sometimes take just as long as the machining process.
Deburring phenolics is a detailed job that often times requires detailed manual labor. Our deburring department has been working with these materials for years so they understand the idiosyncrasies of each phenolic base material.
When possible, we try to use our Cryogenic Deburring Machine on the phenolic parts that we can. The "Cryo" as we refer to it, encompasses little polycarbonate media particles combined with liquid nitrogen during the cryogenic deburring process, components are lowered to a temperature that allows the material to become brittle.
Once the programmed temperature is reached, the parts are "blasted" with a cryogenic grade polycarbonate media at a controlled "throw speed" as determined by a preset "throw wheel speed" that controls the velocity of the media that impacts the parts. The tumbling continues for a programmed amount of time.
Cryogenic deburring does not harm their finish. Flash and burrs are easily removed without altering the finish on the parts. With only the flash and burr removed, the shape of the part retained. Edges stay sharp and recessed areas are completely cleaned of flash.
For more information Please visit our website www.brogan-patrick.com/