Applications of Custom Plastic Molding Techniques in Different Industries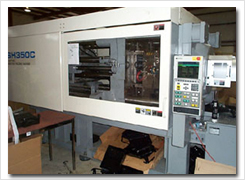 Plastic is known for its versatility and its operational value across various industries.
Injection molding of plastic is a technique that enhances the usability of plastic by several folds. With custom injection molding, you can formulate various parts from plastic material.
Injection molding of plastic is a technique where heat-melted or softened plastic is hard-pressed in to a tube and injected in a cool mold where it is molded in to any desired shape. The mold is an inverse design of actually desired shape.
This technique has made it possible for acquiring intricate parts from plastic material with ease. A large variety of industrial applications get benefited from custom plastic injection molding.
Industrial Applications of Custom Plastic Injection Molding:
Different types of injection molding techniques are used of varied industrial applications. Some of the industries that are greatly benefited by these techniques are:
Electronics Manufacturing Industry: Shaping the plastic in desired form is one of the top priority requirements of the electronics manufacturing industry. With the help of injection molding practice, you can get desired plastic parts used in vending machine components, computer gears, telephonic equipment, business machine parts, sensing devices, aircraft housings, testing equipment, etc.
Oil and Gas Industry: This industry requires equipment and components that can stand strenuous environment and extreme surroundings. Sturdy and corrosion resistant material is a must for oil and gas industry. With the help of custom plastic injection molding technique, you can get parts for gas generation and gas compression systems.
Medical Devices Manufacturing Industry: As compared to other industrial applications, in medical devices the level of accuracy has to be extremely high. Even a small error can lead to huge blunders in the later stages of manufacturing. Thus a precision-based procedure like custom plastic injection molding is highly preferred for developing parts for products like inhalers, electrotherapy equipment, dentistry devices, pathological equipment, immunology machinery, etc.
Sports Goods and Gears Manufacturing Industry: Molding of plastic is of great importance for the manufacture of mouth protection gears, helmets, skipping ropes, golf stroke counters, skate boards, strapping buckles, whistles, etc.
Agricultural Industry: Modernization of agricultural sector has led to various developments in this industry. The techniques and equipment used are highly sophisticated with fast results. The process of plastic injection molding makes it possible to efficiently develop agricultural equipment such as spray jets, assorted berry lugs, berry trays (with and without divider), grape totes, hydroponic equipment, sheets for covering plantation, containers, etc.
Automobile Industry: One of the most elite industries serves by injection molding technique of plastic; the automobile sector requires large volume of plastic parts. Gears, dashboards, body of automobile doors, door latches, blow molded air ducts, fuel tank parts etc. are manufactured using the injection molding technique.
Custom plastic injection molding process is highly useful in different application areas. Brogan & Patrick Mfg.Corp. is an experienced provider of molding services for various industries. To know more, kindly visit our website www.brogan-patrick.com or give us a call on 630-639-5011.