Brogan & Patrick Manufactures One-of-a-Kind Nylon Rod for Industrial Client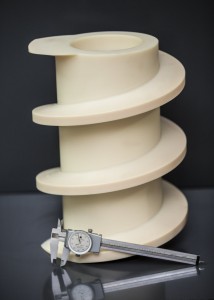 When it comes to plastic machining, Brogan & Patrick Mfg.Corp. has proved itself to be one of the leading companies in this field. The company can provide a variety of solution driven services for custom plastic products.
A New Challenge
A customer recently came to Brogan & Patrick Mfg.Corp. with a requirement for creating a custom nylon rod for an industrial application. However, this was where the requirement stopped being ordinary. The customer required that the rod to be 9.5″ in diameter. The rod was also supposed to have a round body in the shape of an auger drill. This was certainly a challenging task for the Brogan & Patrick Team.
Finding a Unique Solution
While the objective of designing and manufacturing the rod seemed like a daunting task, there were some advantageous points to the project. The first benefit was that they had already been given the type of material with which to manufacture the rod. The second was they were given the diameter requirement. This allowed the designers to create an AutoCAD version of the rod within a short time period. After the design was finalized by the client, the engineers went to work.
Manufacturing the Product
With such exact specification requirements from the client, the Brogan & Patrick Mfg.Corp. engineers felt that CNC turning and milling processes would be ideal to manufacture the product.
Once the nylon material had been assembled, the first step was to perform the CNC turning process. This process, which utilizes a rotary tool bit, was performed to get the exact length and diameter of the rod.
After this step was completed, the engineers moved onto CNC milling. The CNC milling process utilizes rotating cylindrical cutting tools to produce various shapes, slots, or holes in a part. This process was used to create the auger shape onto the rod.
Running into Problems
With the product completed, it seemed like the project was a success. But that was not the case. The engineers found that the product's tolerances did not match the client's requirements. The product had to be machined a number of times to meet the exact tolerance.
Also, a second requirement was to create helicoils around the body of the rod. This, along with the speciality angles of the auger, made the designing and manufacturing of this product an intense project. However, after many hours of adjustments, the engineers were able to manufacture product according to the exact requirements of the client, and send it for delivery.
This latest example is proof that the Brogan & Patrick Mfg.Corp. team will go to great lengths to complete projects, and meet exact requirements and quality expectations of customers.